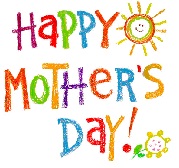 We asked our BFI staff to share their favorite Mother's Day gifts. Here's what they said!
Carol:
My favorite gifts were items the kids made when they were young. I remember Johnny making me a macaroni necklace with so many crazy colors but I wore it because it made him so proud. I had to stop wearing it as it was starting to fall apart, so I put it in a safe place. Jenny made a ceramic handprint that still sits on my dresser. Gosh, how time flies!
Breann:
I appreciate the thought behind every gift, of course, but I especially like to see how excited my kids get when they are watching me open the gifts painstakingly slow. And now that they are getting older, I have to say the gifts are quite remarkable….definitely things that I want. I would like to say that they are actually paying attention, but….LOL.
Tracy:
My idea of a wonderful Mother's Day Gift is my kids doing something for me like cooking a meal or even cleaning the bathroom! I truly appreciate the effort.
Natalia:
Although I am not yet a mommy, I have a great mother whom I have showered with a special gift every year for as long as I can remember. I think one of the best presents I gave my mom was a picture frame that I decorated by hand with a picture of us two. I love giving gifts that can be treasured all year, not just for one specific holiday or event. It's important to me that my mom know how wonderful she is, every day.
Randi:
Although cliche, I love the handmade gifts from my boys! The time has come this year that I will no longer receive the gifts they make in the classroom. So, I will save them and when they get older, I will bring them back out so they can see the cutesy things they did for me! So, now, I would have have to say that anything my boys pick out for me will mean the world to me and I know will melt my heart!
What is your favorite Mother's Day gift? Share with us!