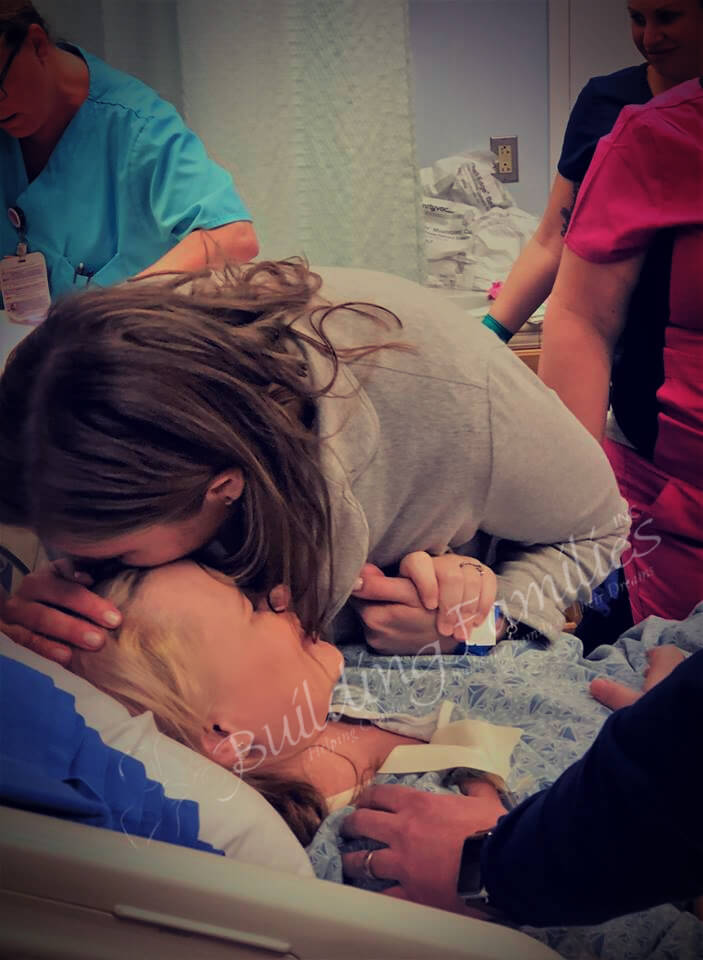 Now it's time to share the moment we were all waiting for….the birth of my couple's baby!!!
As April 2018 rolled around, we were in the final countdown! My couple arrived on the 24th, in my 38th week of pregnancy. The following night we met them and Randi for dinner at our local Olive Garden. If you recall from earlier in my story, I would take belly pictures so they could "see" their baby grow. They were clearly overjoyed to see the baby bump in person!! My IM mentioned that her sister was coming to town for a Justin Timberlake concert and looked forward to introducing her to us and of course, to meet her new niece or nephew.
We talked and talked and somehow the topic of Vegas came up. They mentioned that they had never visited Las Vegas. Knowing my past delivery experiences and having had an OB appointment just a few days prior, I encouraged them to have this last childfree hurrah. They would be only 3 hours away and I truly felt comfortable with them going. Building Families was nervous but supportive. LOL!! I am so glad they trusted my instincts enough to do this.
April 30th was chosen by my doctor to induce the delivery. I am no stranger to induction, having been induced with both of my own children at 41 weeks. Quite frankly, I like being able to prepare and knowing when the baby is coming. There is enough excitement that day, rushing to the hospital in the middle of the night doesn't have to be one of them! So, that morning, my husband and I dropped our kids off with my parents and headed to the hospital.
Once I was checked in and changed, the nurse started monitoring me. I was having mild contractions and already dilated to 2cm. I opted to have an epidural as soon as possible. I knew how short I could become with everyone when I'm in pain, haha! Then came time to start the Pitocin. I was so glad that I got my epidural as I wanted to exude calmness and confidence to my couple, not make them feel bad that I was in pain. When they came in, I was not feeling a thing! We chatted for a bit and took guesses regarding gender.
I have to give credit where credit is due and tell you all that my husband, Mark, was amazing during labor and delivery. He chatted with my couple and saw to their and my needs and he even was quite entertaining. I had so much support too. Not only was Shannon there for a majority of the day, but Lauryn even came up from Orange County to see me. Randi, who you all probably know as the program manager at BFI, was there for the delivery. I am not sure if I touched on my relationship with Randi in my previous parts, but she has been one of my best friends for over ten years and having her by my side is a memory I will cherish forever.
Ok, so back to the delivery! Finally, around 7 pm, it was time to push! My couple, Randi, and my husband all huddled around me as the area was prepped. Just before it was time to push, the most amazing thing happened. My IM's sister arrived at the hospital. I insisted on waiting so she could experience the baby's arrival with her sister. Thankfully, the hospital staff was super accommodating to my entourage and allowed her in. At this point, I don't recall where everyone was standing, only that they were all there. I had my husband holding one leg and my IM holding the other. I remember them both encouraging me the entire time. One final push, a tiny cry pierced the air and Dr. V said, "It's a Girl, It's a Girl!" I felt the tears running down my face and I remember thinking, they are parents now, not intended parents, but truly parents. Dad cut the cord and Mom opened her shirt so her new baby could snuggle with her. I look over and see Dad on his knees in front of them and the Aunt at her sister's shoulder, all staring at this miracle in her Mother's arms. There are literally no words that could describe how that moment felt to me.
Due to a small complication, I was unable to leave my bed and visit with anyone that night. The next morning my couple arrived at the hospital and they wheeled their baby girl into my room. They handed her to me and I couldn't resist counting all her fingers and toes and just reveling in the moment. She was finally here and she was absolutely perfect. I was relieved and grateful. The four of us (and baby) spent the entire day together. We talked about everything and nothing at all. It is definitely up there on my list of 'best days'.
When it was time for discharge my couple was escorted into the NICU area to go over the baby's discharge information while I completed my portion in the room. I was done before them and the nurse wheeled me over to say my goodbyes. As I got up from the obligatory wheelchair and entered the room I was floored. Remember when I shared with you that during one of our Skype calls, they showed me the outfit that they wanted their child to wear home from the hospital? The same outfit that the new mom and her sister wore when they were born? Well, that is what she was wearing!
It was at that moment that I realized the gravity of my journey. I quickly said my goodbyes and made my way to our car. As soon as we started to drive my husband looked over at me in shock. I was bawling! I was so overwhelmed with emotion. Seeing her in the outfit that otherwise may never have been worn again and realizing that I had had such a pivotal role in it blew my mind. Honestly, it still does!
When I look back on delivery day and the hospital stay one emotion shines brighter than the rest: gratitude! I am so thankful for the support of my agency, Building Families, (my extended family really), my husband, and my couple. Although this probably reads like an ending, there's still more to come in my story! Stay tuned!