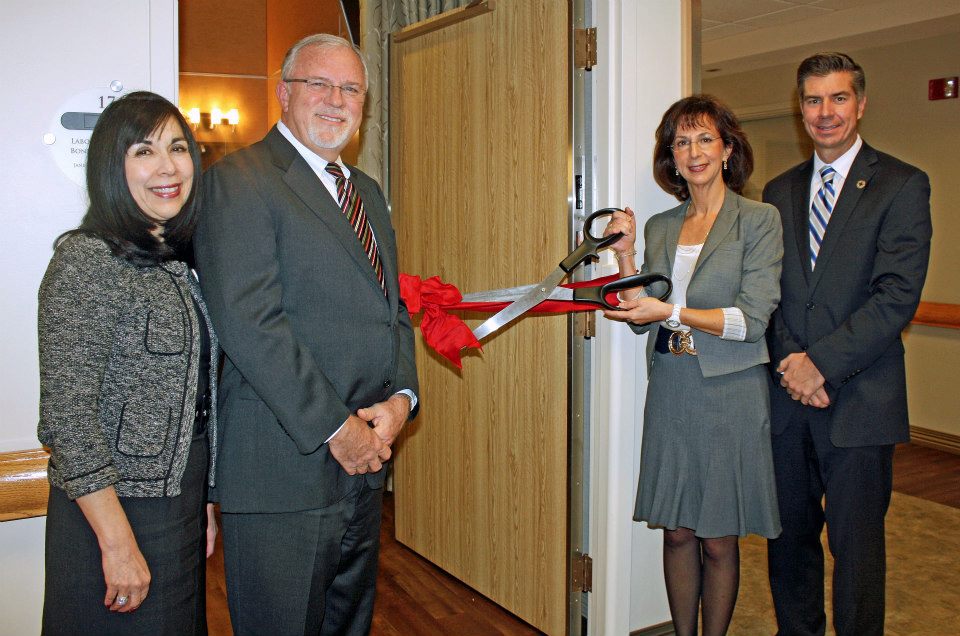 Jane L. Frederick, M.D. Honored for Generous Funding Towards Project
Laguna Hills, CA – Jan. 23, 2013 – A new bonding room was dedicated with an official ribbon-cutting ceremony at The Women's Hospital at Saddleback Memorial Medical Center in honor of donor Jane L. Frederick, M.D., who funded the project.
The new Jane L. Frederick, M.D. Bonding Room provides legally intended parents who have given birth through a surrogate mother, a place to stay overnight and bond with their new baby. Saddleback Memorial chief executive officer Steve Geidt says, "We have seen a growing need to provide this type of service for our surrogate families. In 2012, we had 15 surrogate births, with legal parents who came from as far as China, Norway and Australia."
The room was made possible through philanthropic support from Dr. Frederick, a co- medical director at HRC Fertility and one of the longest practicing female reproductive endocrinologists in the Orange County area who has worked with intended parents for over 20 years.
"In the past, Saddleback Memorial would find a place for intended parents to bond with their newborn, but this is the first time a room has been specifically designated for, and designed with, these parents in mind," says Dr. Frederick. "Surrogacy continues to be a viable option for many families and often these families don't have a place to go in a hospital delivery situation. Parents really need a special place that is theirs and The Women's Hospital at Saddleback Memorial has come through with a beautiful area that is really unique."
The Bonding Room features two-seater sleepers to provide parents with a place to spend
the night with their new baby, as well as a dresser and bassinet. The room also incorporates soothing colors and natural elements in conjunction with the current renovation project Designed for Healing, which aims at providing better patient care through nature-inspired design elements. During their stay in the Bonding Room, parents are able to receive post-partum education from a registered nurse just as birth parents do.
"This is a beautiful room for our intended parents to celebrate the birth of their child and is complementary to our facility and specialized programs we currently offer," says Michael Haydon, M.D., medical director of The Women's Hospital at Saddleback Memorial.
"Our community is very fortunate to have donors such as Dr. Frederick," said Saddleback Memorial Foundation president Cecilia Belew. "Dr. Frederick saw the need for the Bonding Room and stepped up with her generous donation to make it happen. Her gift will touch the lives of so many families in Orange County and from around the world for years to come."