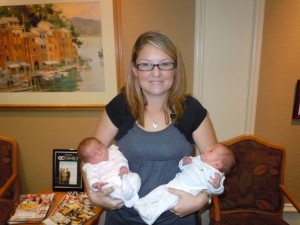 Hi, it's Breann this time! I wanted to share my thoughts with you today as I have had an exciting month.
In the last month, three Surrogate Mothers have given birth. Some may think that this gets old for me,
but it doesn't! I am in a unique position. I get to stand back and watch the experience unfold along
the way and then come to not only a successful end, but a beautiful one. I am there in the hospital
taking pictures like the paparazzi. I am the first one who gets to see everyone's faces when the baby
that this Couple has been dreaming about, actually arrives.
Every time I am on the way to the hospital for another delivery, I get butterflies when I think about what is to come later that day…or night..or sometimes, the next morning!! Regardless of how long it takes, I always feel blessed to part of one of
the most profound experiences of our Surrogate Mothers and their Couple's lives. If I forgot to tell you
thank you when I was there, please know I am so grateful to have spent this last year with you!!