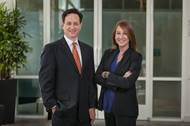 Masler Surrogacy Law, a practice of The Law Offices of Gregory S. Masler, is a client-oriented law firm in Irvine, California, with a focus on providing responsive, practical and personal service for Intended Parents, Surrogate Moms & Egg Donors
Our attorneys represent Intended Parents, Egg Donors & Surrogate Moms and is experienced in current aspects of California reproductive law. Our specialized legal services include: legal consultation; drafting and negotiation of arrangements between parties to an Egg Donation Agreement or Surrogacy Agreement, as well the preparation of release letters to the agencies and physicians involved in Egg Donation or Surrogacy.
Gregory S. Masler, Esq. founded the Law Offices of Gregory S. Masler in 2003. Greg's specialized legal services include drafting and negotiating arrangements between parties, to Egg Donation Agreements, Surrogacy Agreements and Pre-Birth Order Judgments to establish parental rights in the State of California.
Cori H. Johnson is an associate attorney with the Law Offices of Gregory S. Masler. She specializes in legal services related to the Pre-Birth Order Judgments for Surrogacy, as well as drafting and reviewing agreements between Intended Parents and their gestational carriers (Surrogates), and Intended Parents and their Egg Donors.
Learn More about Masler Surrogacy Law Today:  MaslerSurrogacyLaw.com