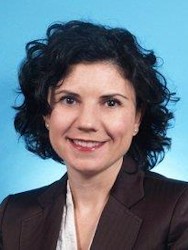 There was a time when my husband and I thought we would not have the family we so much desired. But after several years, our perseverance was rewarded with the birth of our twins!
Our journey to parenthood made me acutely aware of the struggles many Couples face.  Fortunately, we had the support of our families and close friends but sometimes it was still difficult because they didn't truly understand what we were experiencing.
I returned to work as a professor as I have a true passion  for teaching.  I decided that one day I would pursue something else that is close to my heart, supporting Couples through their journey to parenthood.  When Carol asked me to join her mission, I knew that day had come!
I endeavor to help those for whom building a family is not easy with all the love, dedication, care and respect I received. I believe this work is just the greatest of missions!
---
Ana U. Carmona is the International Surrogacy Manager for Building Families, Inc. She manages the European branch of the company, Building Families Europe and she is the head of Business Development for Europe, Asia & Australia. Along with Carol Weathers, Ana represents Building Families at Reproductive Medicine Conferences around the world. As a key source of support and guidance, Ana is available to attend to the needs of the International Intended Parents throughout their journey with Building Families.