We are currently searching for warmhearted women from all areas in Southern California who want to help build a dream.
Surrogate Mother Qualifications
Be a resident of California
Between the Ages of 21 and 40
Height and Weight Ratio Appropriate (max 200 lbs.)
Have previously given birth
Excellent Health
Non-smoker
Not on Government Assistance
---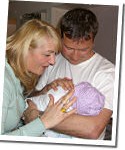 Are you Ready to Start?
Want more detailed information about the
Surrogacy Process?